Share
In social media, content creation seems to be a common challenge. We often hear that creating content is time consuming and difficult. One option I always encourage my clients to consider in their social media strategy is posting about relevant events such as holidays, theme days and anniversaries that tie into the company's values. 
Posting about relevant events is an easy way to create content while humanizing your product service or brand. 
There is always something trending in social media, so take advantage of social listening software platforms like
Sysomos
to discover where the conversations are
occurring, and p
articipate if you can add value to the conversation. 
Relevant content allows you to be authentic and relatable to your audience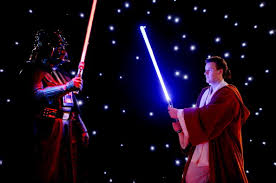 Since the Star Wars movie, #CyberMonday and #MotivationMonday are all hot topics on Twitter right now, let's look at a few of the many ways that companies are tweeting about the relevant topics to engage on social media: 
Who's ready for #CyberMonday? Get everything on your #AMDWishList. pic.twitter.com/8uotDIsA9T

— AMD (@AMD) November 30, 2015
Can you beat our @StarWars quiz? https://t.co/xOeJSJGIUy pic.twitter.com/ulHDc9cuHs

— CNN International (@cnni) November 30, 2015
Which Star Wars movie is the best (so far...)? https://t.co/vASVmVhsQO pic.twitter.com/GalzHLMCVl

— Total Film (@totalfilm) November 30, 2015
Star Wars: Did you know there was a female Yoda Jedi? https://t.co/dW8OSrpaHJ pic.twitter.com/M52Ft6EGy6

— IGN (@IGN) November 29, 2015
Here is some #MondayMotivation as we wrap up November and head into December! pic.twitter.com/72qh7Jn5p2

— REMAX Western Canada (@remaxwesterncan) November 30, 2015
#MondayMotivation: "The only way to do great work is to love what you do."- Steve Jobs pic.twitter.com/QZc9yIgRnV

— USA Swimming (@USASwimming) November 30, 2015
Sharing articles and links that your audience would appreciate 
If you missed it, Google basically turned the internet into Star Wars. https://t.co/z6R7wpo4WQ pic.twitter.com/ZhMrCUCM4P

— GameSpot (@gamespot) November 29, 2015
#CyberMonday traffic proves too much for Target website: https://t.co/36I5ZrElNC pic.twitter.com/rn8rypZ98c

— The Hill (@thehill) November 30, 2015
As you can see there are many ways you can go about sharing relevant content on social media. If you are unsure where to start, let us help you. 
Related Chatter