Share
​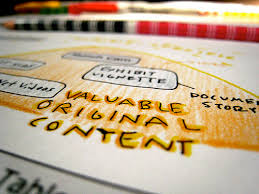 There are numerous benefits to creating your own original content, here are just four of the many reasons why you should set aside some time to create original content for your company or organization.  
Establishes you as a credible source - You have spent a lot of time and money investing in your business, and you know your industry better than anyone. Why not put that knowledge to good use with crafty content that is authentic and establishes you as an expert. Not only will you look like an authority in your space, but you will also improve your credibility and the confidence and trust in your product or service and show your clients, potential clients and partners that you know all about your industry.
Show you are relevant - The only thing we can count on is change, so what better way to show your business is with the times then incorporating the latest changes in technology, trends and even the law into your original content. Write about how your industry is evolving and why your product or service is still valuable. Your insight into what is current will be very useful and your thoughts on how to adapt will be something your audience will appreciate.
More people will visit your website - If you create great original content, people will visit your website because they see the value and insight that you offer. The more creative and original you get, the more likely people will be to return to your site and subscribe to your channels and newsletters. This is a great way to organically build your marketing lists with people who are engaged in what you have to say. Plus these people are also more likely to share the content that you are creating with their friends and followers.
Improves search engine optimization (SEO) - Everyone wants their company to be one of the first to show up when you do a google search, so keep that original content showing up on your website so there is a reason for your business to appear in the search rankings. If you continue to update your website with content that is useful, original and establishes you as an authority, your SEO will increase by default.
Not sure where to begin? Mad Hatter Technology can help your business craft a content marketing strategy or create original content for your industry or service. Contact us today to find out how we can help you add value to your website or blog.  
Related Chatter