Share
Quick question: are organic brands able to connect with consumers just because they are healthier? Not sure? Ponder this next: is being healthier enough to create a food movement and a trend that is making history? 
Let's take a look at some organic food businesses that understood social media at the very beginning: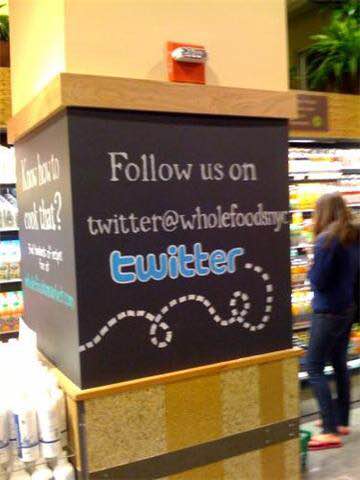 Whole Foods
These people know what they are doing and their stats confirm it. With over 2 million fans on Facebook and 4.8 million followers on Twitter, they integrate social media at all points of their interactions with customers.
At the entrance of the front door, there is a sign that tells people how to find them on Twitter and Facebook. This is a simple and smart move that every physical business should utilize to alert their customers of their social media presence from the starting point of their interaction. 
The best marketing practices embody their message completely. In the case of French organic food retailer Biocoop, that means trying to be as environmentally friendly as possible in all of its activities — even producing its ad campaigns.
They minimize their carbon footprint in multiple ways: 
shooting photos with a pinhole camera,

writing the taglines right on the prints in vegetable paint

recording music in only one take

designing the website almost entirely in ASCII text(totally only 3MB of data)
Chobani
Chobani is a ten-year-old yogurt company that has been engaging with their customers in unique ways. They spent significant amounts of time studying their target's social media habits in order to discover insights on what interests their targets and how to engage with them. These insights led Chobani to provide specific content to its consumers, which included recipes, snack ideas, and healthy tips.
Moreover, Chobani wasn't afraid to follow consumers to niche social platforms. It was the first yogurt brand to engage their young, predominantly female target on Pinterest, as well as the photo-sharing phenomenon Instagram.
The next time you pick up an organic apple, pay attention to how hard organic food brands work to connect with consumers through transparency, storytelling, and inspiration.
At the end of the day, it is those connections that will drive sales, as it has done for the $35 billion organic food industry. When you do some good for the planet, it's hard not to pat yourself on the back.
Related Chatter