Share
As technology experts and enthusiasts we always get asked, "What would you recommend?",  the answer always is, "Depends on what you need." However, here's a quick breakdown of some our fave cloud based productivity apps. 
The Mad Hatters love
Pipedrive
for its simple sales management tools and online dashboards.  Pipedrive was founded by Martin Tajur, Ragnar Sass, Urmas Purde, Timo Rein and Martin Henk in June 2010, and is headquartered in California.
Pipedrive is a simple sales funnel management tool, used to drive productivity within the sales team throughout the entire sales cycle. Designed for sales teams or individual professionals, Pipedrive allows you to manage and monitor sales and leads, as well as allowing team members to focus and directors to have a clear overview of status and progress reports.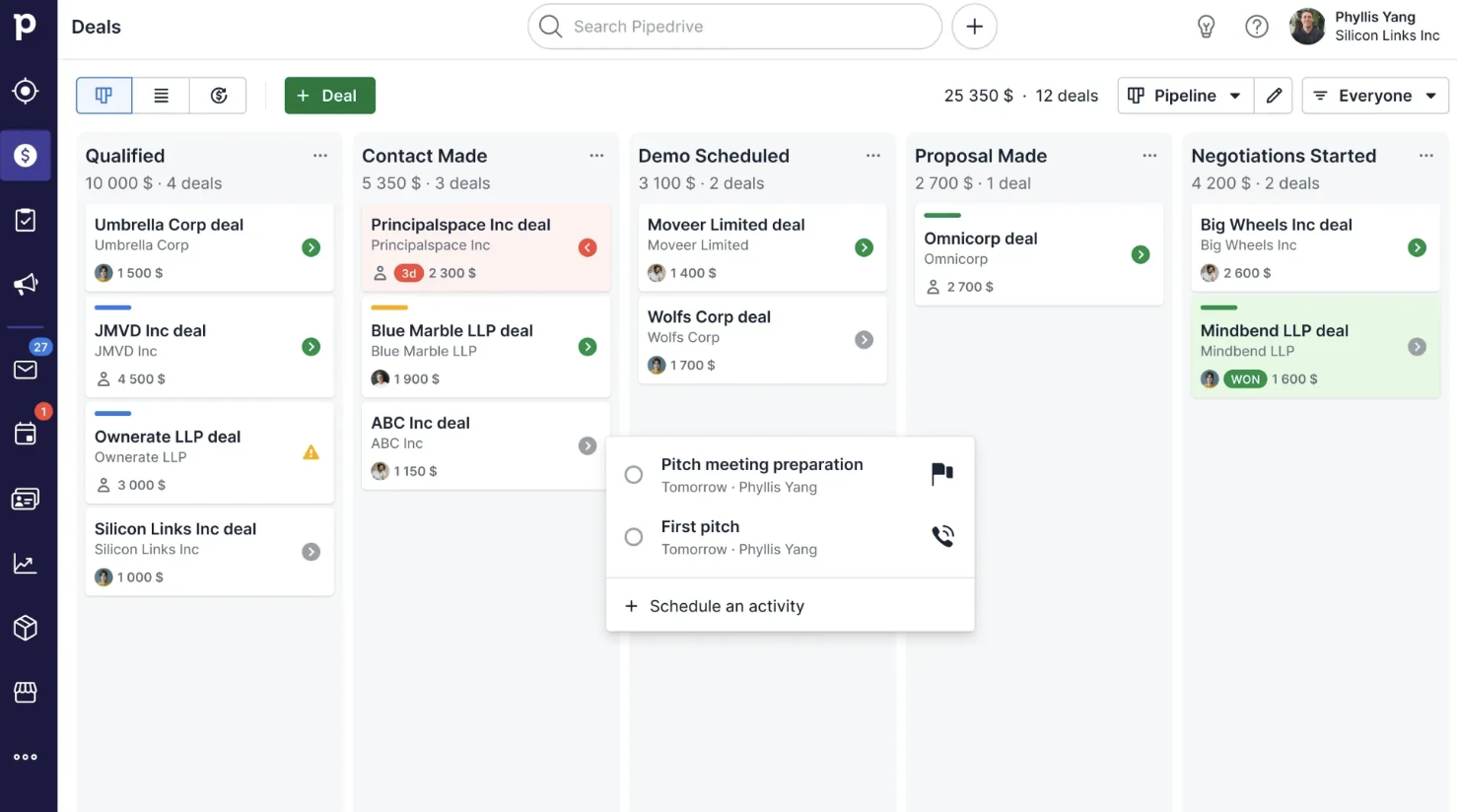 Features: Within Pipedrive users are able to review accounts and contacts, track goals, as well as any updates and additions to the sales funnel.  This sales management software tool allows for organizations to have a simple and effective way to manage the company's sales and leads. Managing and monitoring from an easy to read dashboard, each contact has its own page, enabled with filters and lists, it is easy to follow up, edit, update, and nurture potential prospects.
Price: Offers free 30 day trial, after that it's $12/month per a user.
For finance and billing, we have to give kudos to the Canadian technology company Freshbooks - for the fresh outlook it gave to finance management for business owners everywhere.  Freshbooks was founded by Mike McDerment and Joe Sawada and is headquartered in Toronto. With over 5 million users, Freshbooks operates in over 120 countries, offering a better way for small to mid size enterprises to manage finances, invoice clients, manage client accounts and organize company expenses.
This light and smooth cloud based software, allows for a simple way to create estimates, invoices, track time, input expenses and manage billing and collections.  The application allows for seamless integration of information from other applications, and easy online accessibility.  Use Freshbooks effortlessly, across desktop, tablet and mobile devices, to do a review your finances anywhere, at anytime. Designed for owners of small-to-mid sized client service businesses, who require painless billing, Freshbooks offers easy online financial management.  Stay organized, with online accounts for all your clients, for easy estimate reviews and approvals, online invoices, payment records, and account statements.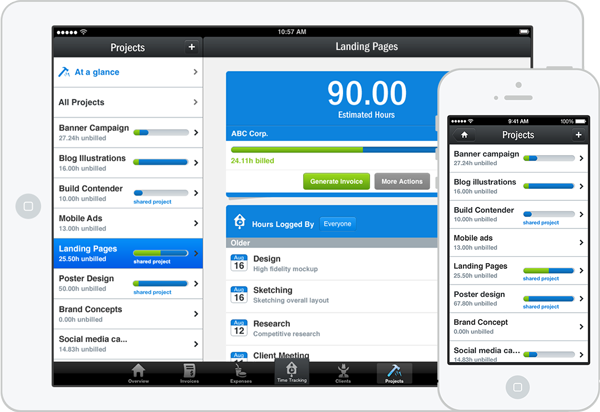 Features:  Freshbooks saves time, automating many tasks such as collection notifications.  The system has the option of flagging invoices for online payment options, so clients can pay directly online.  Clients have access to their own online accounts. Invoices, estimates, and time and billing record history, and the generation of simple management reports are just a few of its features.  It is also compatible with add-ons such as accounting software, tax, marketing or project management applications.
Pricing: Offers free download and one client to manage, Seedling plan is $19.99 and includes 25 clients for a single user, Evergreen plans is $29.95 and includes unlimited clients as well as an additional staff member to access information, and the Mighty Oak plan is $39.95/month and includes unlimited clients as well as five team members with accessibility.
For an online support center, Mad Hatters advise clients to find Zen with Zendesk, as their customer service platform.  This application was designed to bring clients and companies in closer contact, to correspond, track, address and resolve issues and customer concerns.  Founded in 2007 by Mikkel Svane, Alexandar Aghassipour and Morton Primdahl and headquartered in San Francisco, Zendesk operates in 140 countries and in forty languages.
Zendesk allows companies to offer 'in the moment', personal, and proactive customer support 24/7.  This cloud based app has many customizable features, allowing you to tailor the feel and functions, and to fully integrate the platform into your own digital ecosystem of websites and online support centres.  The ability to track all service requests, while providing in the moment support, allows you to understand your customers better.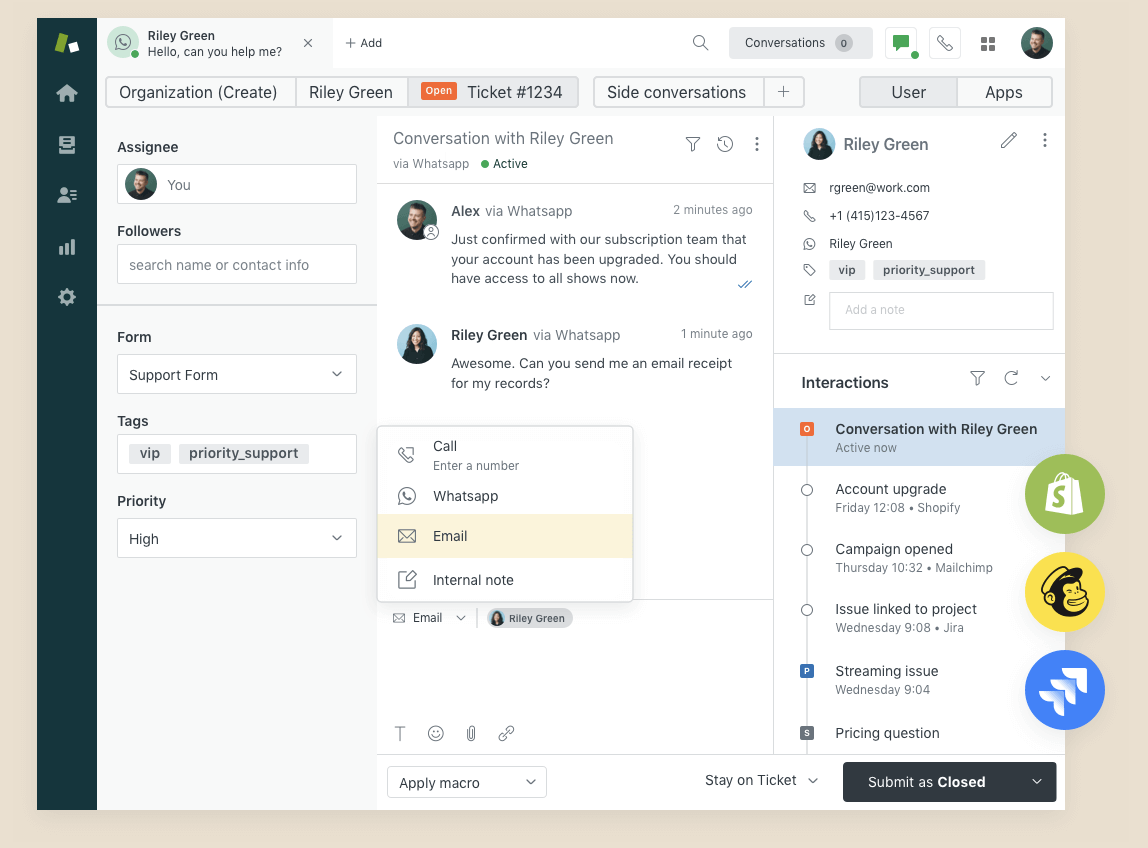 Features: Zendesk allows you to keep all conversations and requests from clients in one convenient place.  This ensures you are able to track response times, and provide the successful resolution of service requests, without any requests being overlooked or being left unresolved.   Zendesk also functions as a knowledge base and customer portal, where customers and company members are able to track and reflect on requests, allowing for the eventual provision of online self help centres if desired.  Manage tickets timely, and offer support by solving tasks immediately. Zendesk can measure the organization's performance, and has the ability to integrate with website content management systems.
Pricing: Zendesk offers a free thirty day trial as well as a variety of plans. Starter plan costs $1 per an agent/month. Regular plan is $25 per an agent/month. Plus plan is $59 per an agent/month. Enterprise plan is $125 an agent/month and Enterprise Elite plan is $195 per an agent/month. Each different plan comes with additional features and functions.
Mad Hatters were early adopters of VOIP systems, and discovered Ringcentral was a leader, as a US based fully integrated, and feature rich voice over IP system. Founded by Vlad Shmunis in 1999, and released in 2006, RingCentral is headquartered in California, and offers service and support to over 300, 000 businesses.   Service within Canada can be more reliable with a Canadian provider, simply due to the proximity of the network and the potential for latency, and it is highly recommended business owners should do a comparative of Canadian and US based VOIP providers based on proximity and on their operation locations. 
This cloud communications computing platform is as flexible as it is organized, and very easy to navigate. RingCentral eliminates the need for a hardware phone system.  Available on your desktop and within an app on your mobile phone, RingCentral allows you to pick up, make and route calls in both places.   You can configure the number of rings prior to voicemail picking up, customize voicemail messages, and even individualize call transition music to your preference.  Messages land in your app, on your desktop and into your email inbox for easy pick up and response.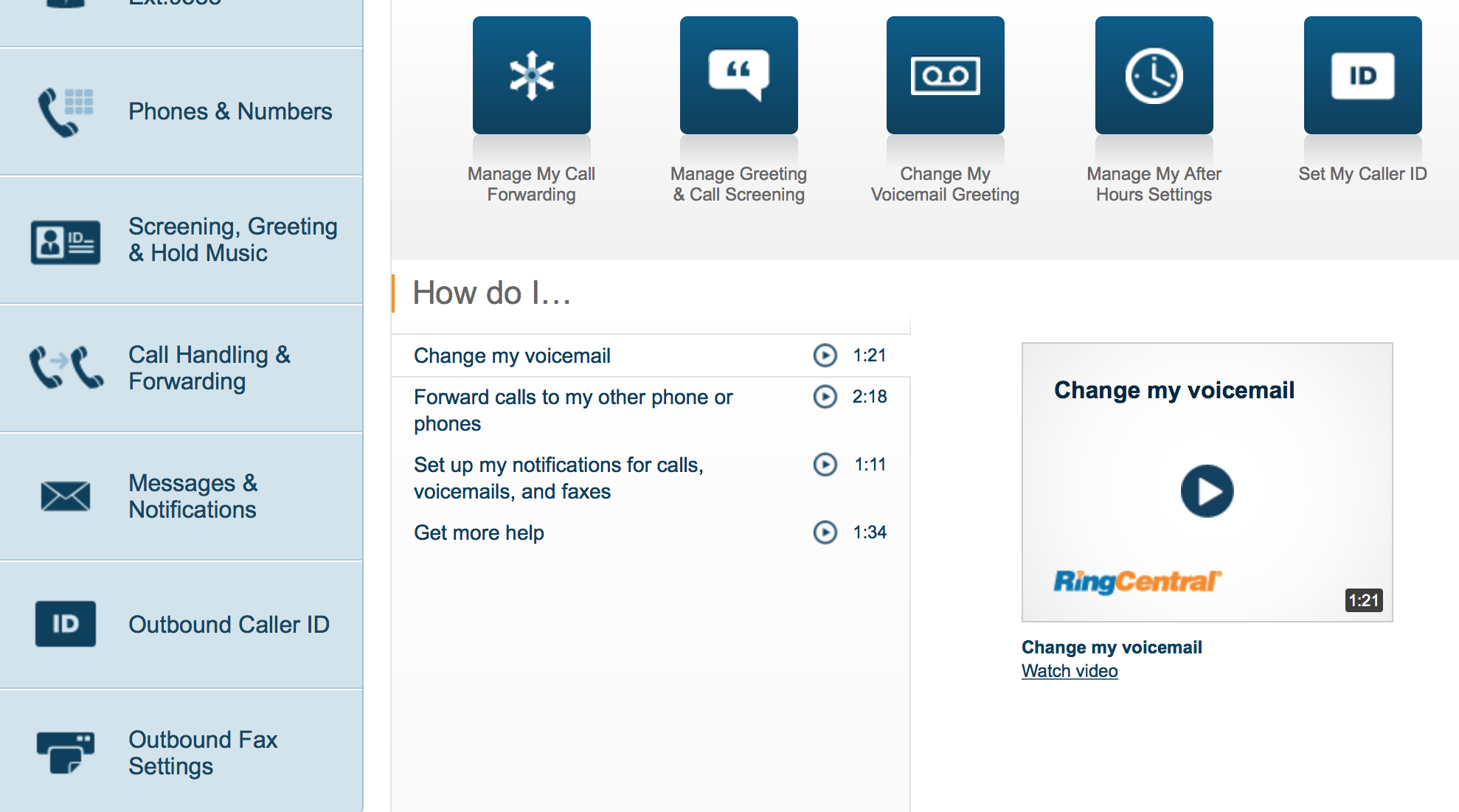 Features: Ringcentral is a cloud based phone system, designed to help manage mobile, fax and email communications. Ringcentral offers many services such as, voice calls, fax, text and conferencing. It is compatible with desk phones, smartphones, and tablets.  
Pricing: Plans start at $24.99/month, premium $34.99/month and enterprise $44.99/month, for core main lines, but 'virtual' line additions are unlimited leading to significant cost savings.
For internal communications, Slack is a way to collect and organize conversation threads similar to social platforms such as Twitter using hashtags.  Founded by Stewart Butterfield, Eric Costello, Cal Henderson and Serguei Mourachov and launched in August 2013, Slack is an office communications app headquartered in California.
Slack has the ability to search, archive or confine content to channels and is compatible with Dropbox and Google Drive. Slack can make it easier for new employees catch up, by reviewing channels and conversations, and it can always be running in the background for quick online reviews, or people can check in once they receive notifications.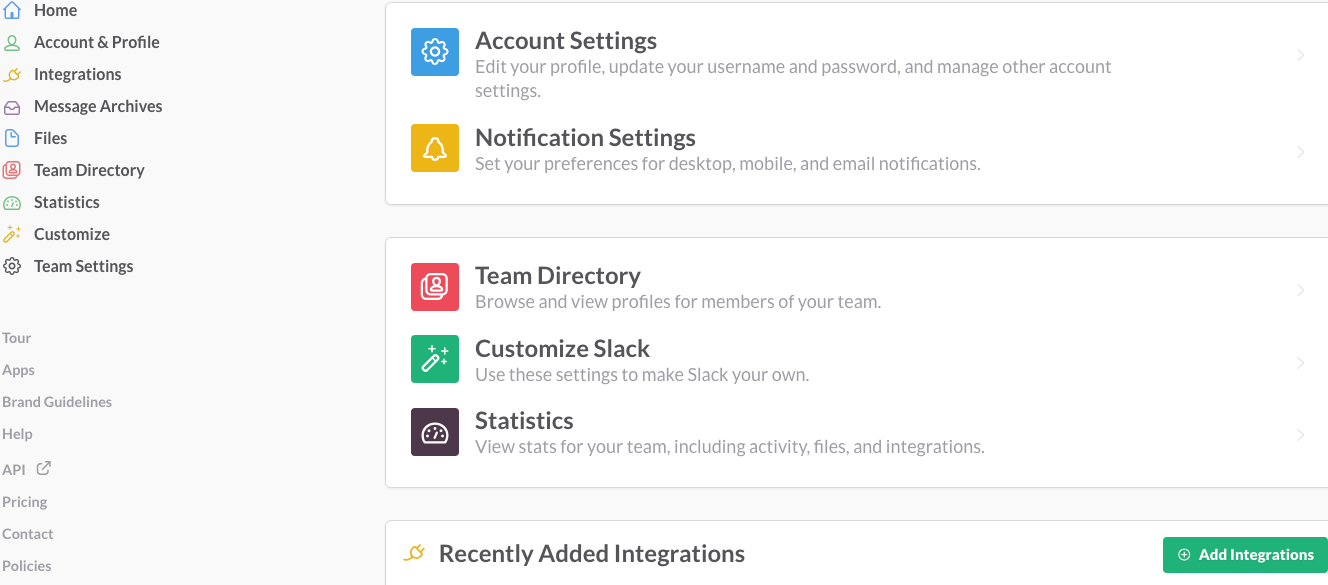 Features: Slack offers company chat rooms and channels, as well as private groups and direct messaging and all content is searchable, from files to conversations.  There are @ mentions and replies to quickly and easily bring teammates into conversations.  The application easily integrates with Zendesk, so other important application notifications can be brought into their own channels for quick and easy viewing of other company activities or processes.  Slack is compatible with many other applications and is also available on the apple watch.  
Pricing: Free plan, Standard 6.67/month, Plus $12.50/month and Enterprise $48/month.
To monitor the production tasks and corresponding workflow, Mad Hatters recommend producteev.   Founded by Illan Abehassera, Aric Lasry, Jerome Miglino and Dan Attali in  2008, and also headquartered in California, Producteev allows you to organize company's workplace allowing for more productivity.
Producteev operates as a socially minded task management platform, and allows for organizations to properly prioritize and monitor tasks and activities from initiation to completion online.  The simple dashboards, along with the aggregation of information and feedback, which is compiled and organized in relation to individual tasks, allows for an orderly way to inform, collaborate, manage and complete production tasks.  Tasks can be flagged with different statuses; active, in progress, paused or complete.  and prioritization can range from no priority to very high.  Labels can allow for simple tagging to search and find information and @ mentions allow for easy collaboration with teammates.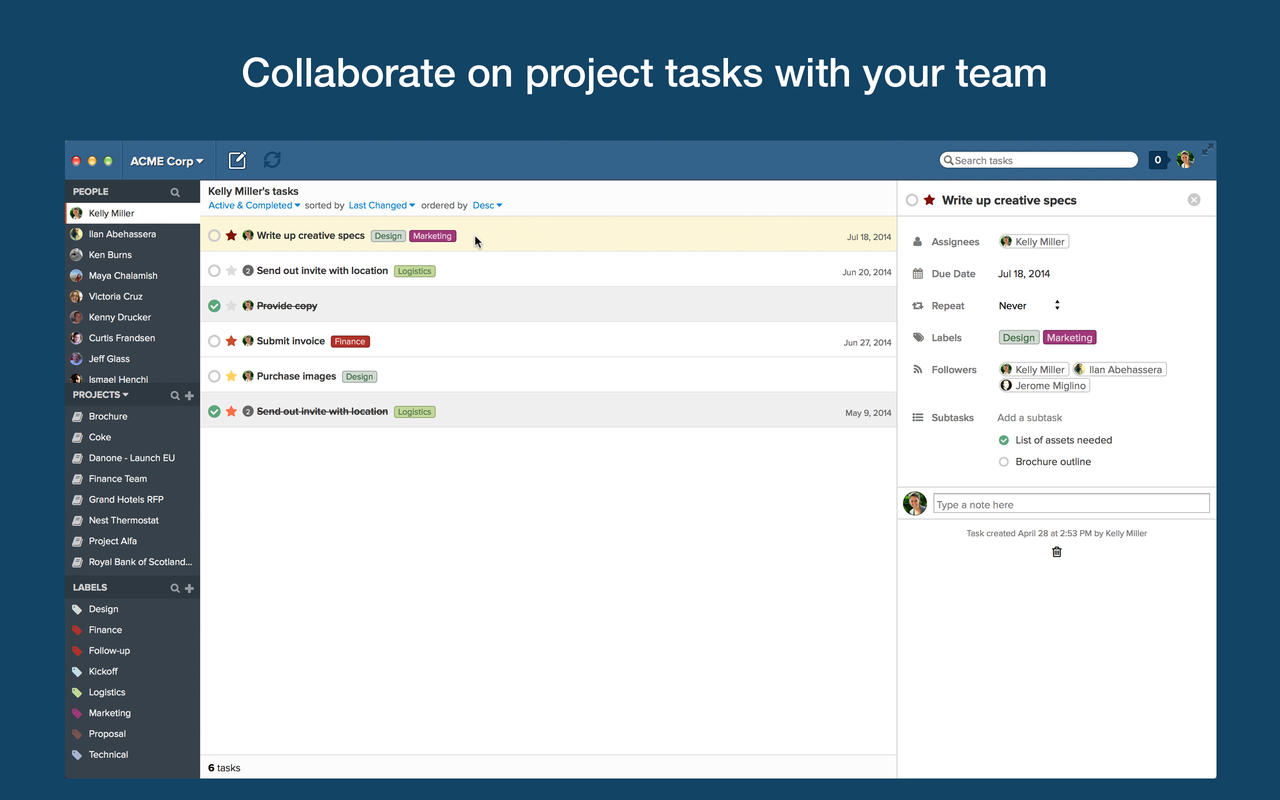 Features: Online dashboards of task lists by team members, with follows, mentions, notifications, reminders, activity feeds and audit trails.  Companies and team members are able to prioritize and pass tasks to other members. Team members can label & tag tasks with categories or keywords, and insert sub tasks, assign deadlines.  With tagging you can filter by words, tables, clients, and shortcuts keys. Producteev is able to integrate with outlook, and a variety of other cloud based applications.
Pricing: Core product is free, but non customizable and unable to integrate with outlook.  The Pro version is $99/mth.
Looking to infuse online collaboration and feedback into your creative process - look no further than InVision. Headquartered in New York City and founded by Clark Valberg and Ben Nadel in 2012, InVision is a great high-end design and collaboration platform to help facilitate the creative process.  The application is simple, with a fresh look and feel - surely designed by great interface designers - with easy navigation, and the ability to share creative visions and ideas with team members.
Invision is used to collaborate around creative concepts and designs with clients and team members, through all stages of the creative design process.  The application allows designers to include the flow and navigation of a website or a mobile application.  The mock up screens for mobile applications, can even be downloaded to mobile devices in a 'mock app', which allows clients to click through the screen flows - invaluable to the app development process for client and user testing of concepts  The feedback and comments can transform into to-do lists, and keeps everyone up to date with notifications on design revisions and feedback loops.  Clients and collaborators can view each version of the design developed through the design phase, and revert to earlier versions if needed.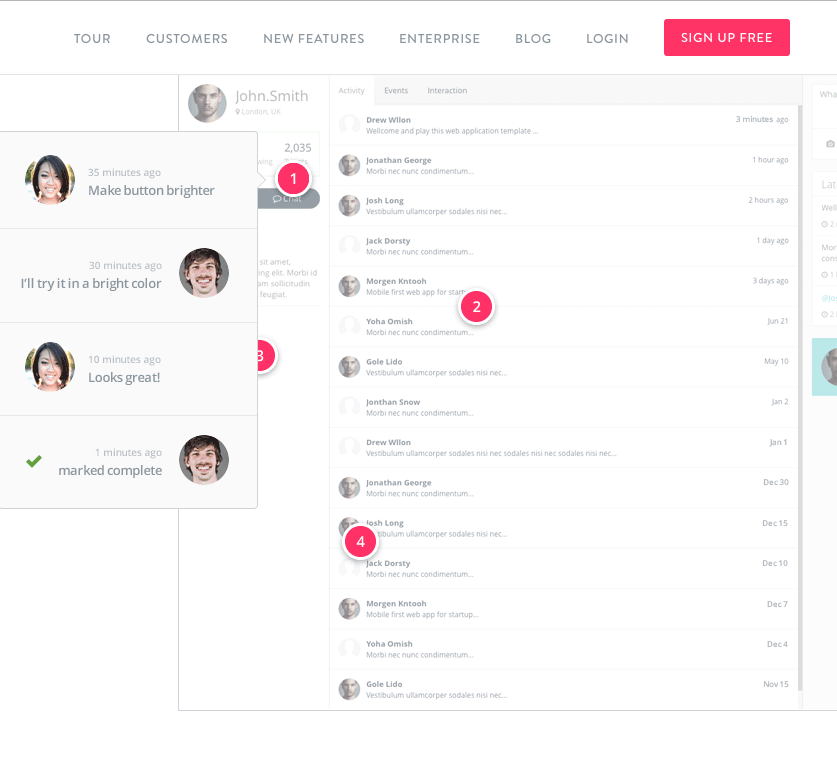 Features: Invision allows for the ability to design for web, mobile and tablet applications. You can create concepts, wireframes, and prototypes and the application works with a variety of files - no coding necessary. Collaborate, share, design, user test, create comments, convert comments to tasks, and manage version control.  Additional features include option to upload designs, make static screens clickable, and create links for online concept reviews.  Clients and team members can comment directly on designs online and eliminates long email chains, where feedback gets lost and confused.
Price: Offers 30 day trial or manage one project for free, starter plan $15/month and allows for three projects, Professional $25/month and includes up to 5 projects and Team plan for $100/mth which allows for 5 members and unlimited projects.
Our list of Mad Apps would not be complete without Google Apps for Work as a communications hub. Mad Hatter was an early adopter of Google Apps onboarding as a Google Apps reseller in early 2008.   Developed by Google Inc., Google Apps for Business allows for any and all internal collaboration or communication your company would need - in an online communication hub in the cloud.
Google Apps for Work operates as a collaboration tool and acts as a virtual office to service all your company needs. Send, share, seek, collaborate, collect and control your documents, and host online conference meetings on the cloud with Google Hangouts, and have all information accessible at all times.  You will never have to 'save' a document again as its automatic, and the easy share and collaboration features allow you and your colleagues to view, update, comment and collaborate on documents at the same time - online.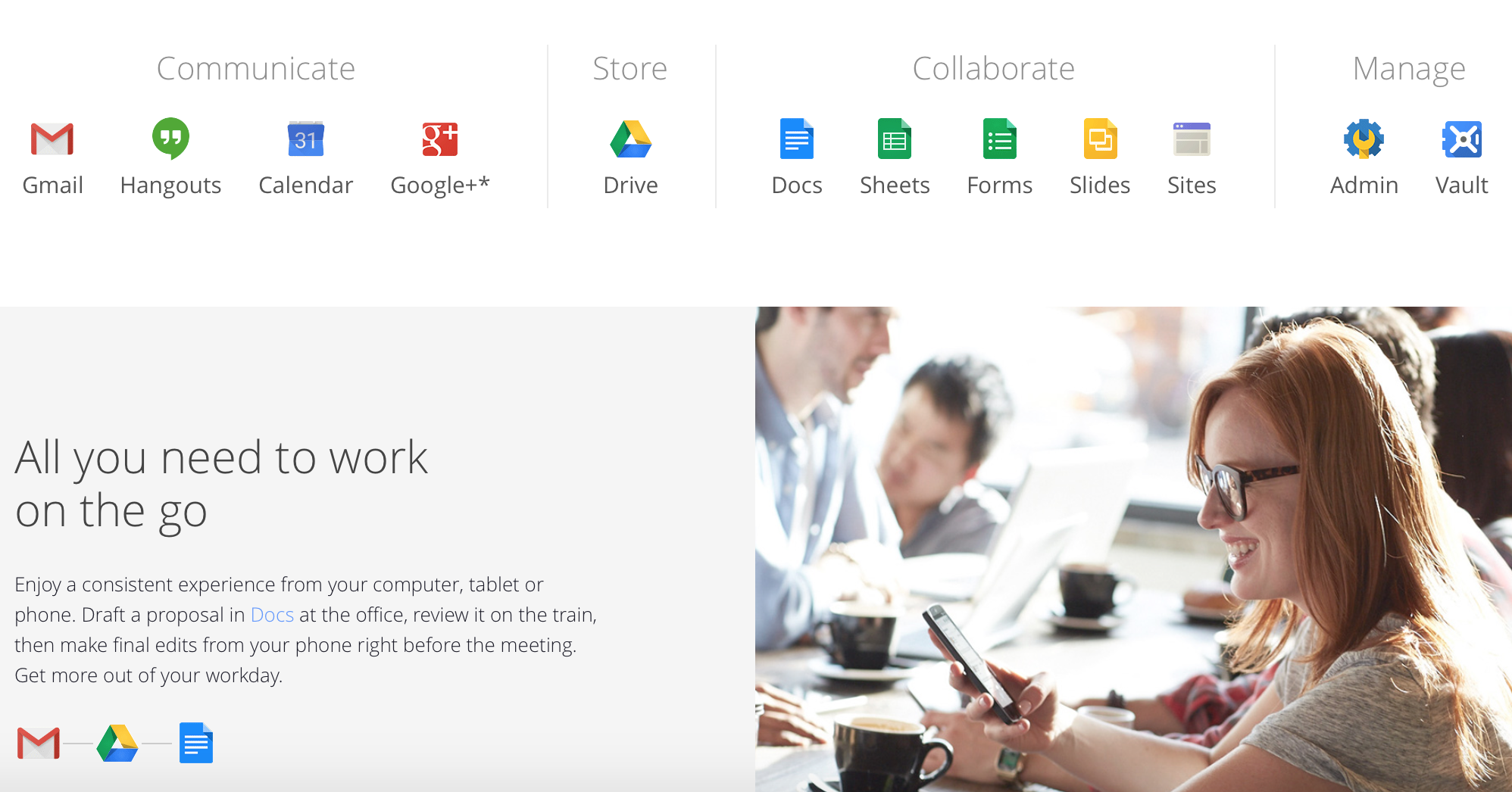 Features: Offers a variety of functions from one safe and secure location including Google mail, Google Drive, Google Hangouts, Google Calendar, Google Search, Google Plus, Google Slides, Google Docs and Google Sheets to create all the spreadsheets you need.  The online storage allows for the freedom to work from anywhere, at anytime and have access to all your key documents, appointments, emails and files on the fly.  
Price: $5 USD / month / per user including 30GB of storage or $10 USD / per month per user for unlimited storage.
Access any large or important files from your computer, even if it was created on another device. This application automatically updates all files so that when you access from different devices, the documents remain relevant and the same. Capable of hosting photo's, video, documents and other various files, Dropbox eliminates the need for USB's and emailing files also. Simple to use and convenient, take comfort in knowing if anything were to happen to your phone or computer, your memories and files would be safe in the Dropbox.
Features: Dropbox allows you to access and edit files from devices they weren't originally created on and an option to automatically backup photos and videos. You can access your files offline, sharing and storing them securely along with them being synced across devices.
Pricing: $17 a month (up to five users) for unlimited space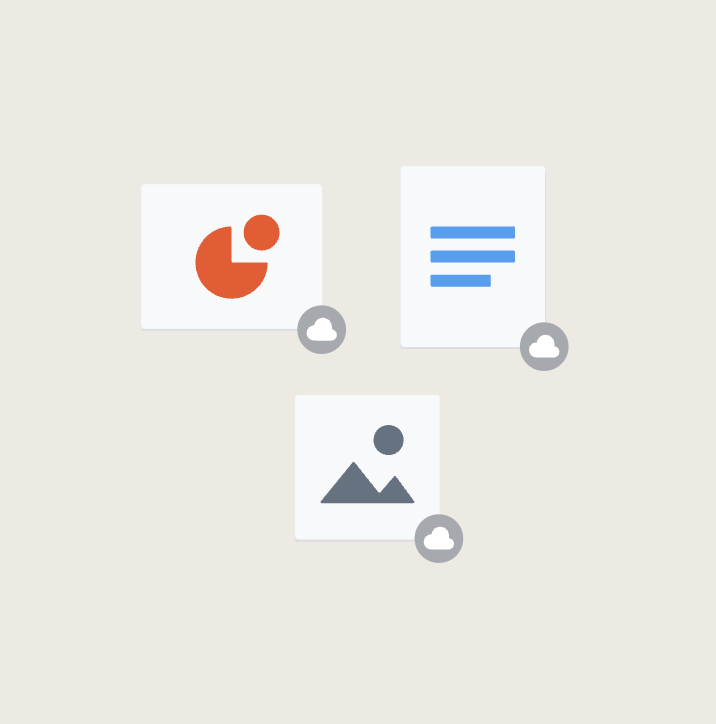 Related Chatter