Share
Instagram, the popular photo-sharing app, launched #PerfectlyMe on October 17 to coincide with National Body Confidence Day. The campaign, in partnership with Seventeen, was created to begin a conversation about body image and create  a community where we accept and celebrate ourselves — and each other — for the amazing individuals we are. There are many ways you can get involved, including using the hashtag #PerfectlyMe on photos and videos that you post on Instagram.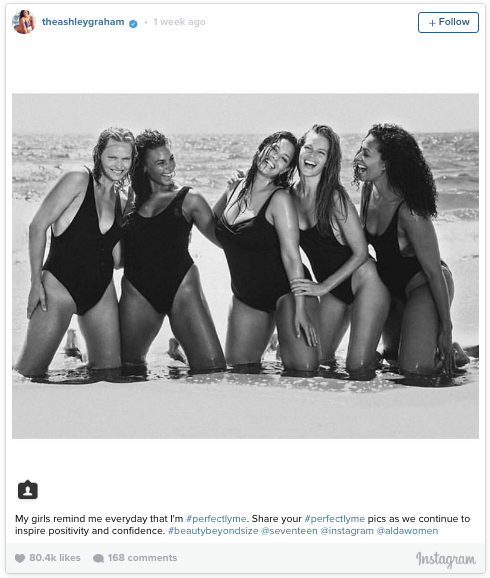 Instagram also launched some important features that you need to know about, which makes it easier to reach out to those who might not be as accepting and confident about their bodies and need some support.
Features
If you think someone on Instagram is struggling with an issue or is posting content that raises some red flags, you can anonymously flag a photo

A message will appear saying: "Someone saw one of your posts and thinks you might be going through a difficult time. If you need support, we'd like to help"

Options including talking to a friend, phoning in a local helpline, or getting information on where to receive tips and support will become available

The messages and language were carefully crafted with input from groups including National Eating Disorders Association and The National Suicide Prevention Lifeline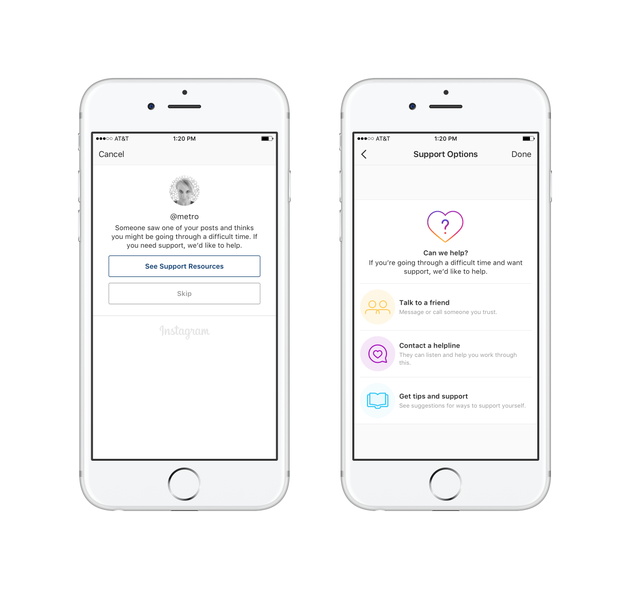 The ability to anonymously reach out to a friend in need on Instagram is a tool that has the ability to make a difference, especially after a study was conducted which claims it can identify depression based on filters people use on their Instagram photos.
It was perfect timing for the #PerfectlyMe campaign as mental health is a hot topic on social media this month. October 4 - 10 was Mental Health Week in Canada, and World Mental Health Day took place on October 10. Even the Royal Family participated in the conversation about Mental Health. 
HRH: "William, Harry and I feel it is our duty to do what we can, with your help, to shine a spotlight on emotional wellbeing" 
Mental health is not something that is easy to identify, like a cold or a broken leg, so you might not even be aware if someone close to you like a family member, friend or colleague is suffering.
According to the Canadian Mental Health Association, Mental illnesses can take many forms, just as physical illnesses do. Mental illnesses are still feared and misunderstood by many people, but the fear will disappear as people learn more about them. If you, or someone you know, has a mental illness, there is good news: all mental illnesses can be treated.
 
Mad Facts
Mental illness is increasingly recognized as a serious and growing problem.

It is estimated that 1 in 5 Canadians will develop a mental illness at some time in their lives.

Many more individuals such as family, friends and colleagues are also affected.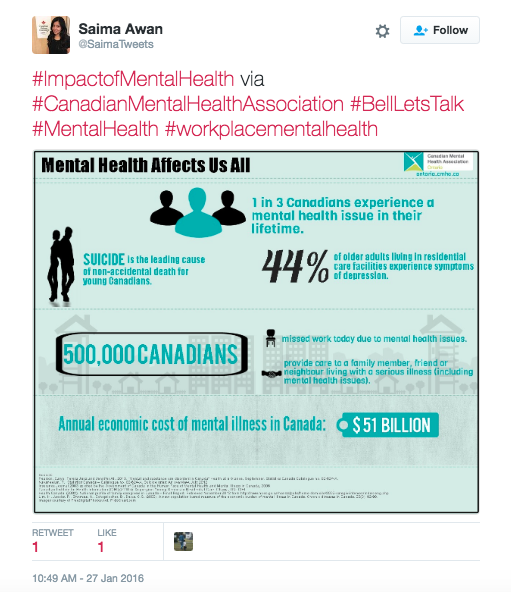 Mad Hatter Technology are social media experts.
Contact
our Buzz Machine today to assist with your marketing campaign needs in Kitchener / Waterloo / Toronto today.
Related Chatter