Share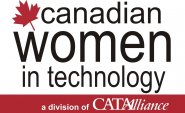 In support of CanWIT Women in Technology, we are enthusiastic about helping young women think about career opportunities in technology.
One of the greatest challenges for young people is they aren't aware of the type of work opportunities available to them.
To help encourage young women to pursue careers in technology, we host tours of the Tannery District technology companies to introduce Grade 9 students to successful and entrepreneurial women who are working in technology roles within our region.
Lisa Thompson from Communitech, brought in youthful energy in a way only she can bring it and really rocked as the host for the Communitech portion of our tour. 
Special thanks to Sabina Simons for teaching the girls how Desire2Learn has used technology to educate people around the globe and how her coop job placements have turned into her career path. 
Jennifer Janik from Mad Hatter Technology immersed the girls in a 3D digital world powered by the Christie Digital cameras followed by a behind the scenes tour of how the technology built within these cameras work their magic. 
And kudos to Cate Huston of Google, who treated the girls to Google swag and while the speeches on "you don't have to be perfect at math, just work hard" resonated, the girls were just full of giggles after watching a grown Google man in dockers come down a slide, adjust his shirt and get on with his work day.   And if the slide between floors didn't do the trick, we're thinking the bean bags, funky lounge chairs, and the 24 hour snack bar might just entice these girls to think about careers in technology. 
Thanks everyone - it was all just awesome.
Related Chatter