Share
Valentine's Day is celebrated February 14th around the world is considered a day to express love (for family, friends, pets and partners). 
The clip of potential partners meeting got over 9 million views in less than a week.
Tesco created a Valentine's Day campaign that would match people based on what was in their grocery basket. The brand took different approach by making it about singles, not a traditional couples message (as well as how fun it could be to shop at Tesco's).
32 people participated and were paired up with another based on what was in their basket to go on a potential date. The matching was based two facts - it's more likely one would find love at grocery store as opposed to a nightclub and also that what is in your basket, says a lot about you as a person.
The brand recently announced that there will be no changes to athlete contracts if they were to announce that that are same sex, bi-sexual or transgendered.
For Valentine's Day Adidas posted a tweet which said caption 'the love you take is equal to the love you make', showcasing the lower half of what appears to be two women embracing.  
This ad generated thousands of comments and received over 12 thousand likes in a short period of time. 
The Adidas team must have been prepared to reply to homophobic remarks over the sexual tone of the ad.  Perhaps Adidas knew there would be controversy and prepared replies for negative remarks.
Though the company may have lost a few customers, they strengthened a different market as companies that include everyone, win.
Doritos Ketchup Roses, 

BBDO

Toronto 

This quick campaign came with 12 Doritos roses, free delivery as well as a bag of the chips. 

 

The brand attempted to place importance on treating men this Valentine's Day by putting a spin on traditional (candies, jewelry and/or flowers) and creating a bouquet of ketchup Doritos roses (from women - for men). 

 

As men don't usually receive Valentine gifts and to welcome back Ketchup chips - a 70's themed video along with retro packaging of the chip bag were created and sold out within hours of the launch. 

 

 

This brand puts a playful, if not cheeky twist on holiday advertising. For Valentine's Day 2016, Ikea created a 'love manual' that attempted to troubleshoot relationship problems in a humorous way.

In the past Ikea has offered free cribs (for babies born nine months after Valentine's Day), as well display chairs stacked on top of each other. Last year the ad consisted of new 'beds' (which weren't for sleeping).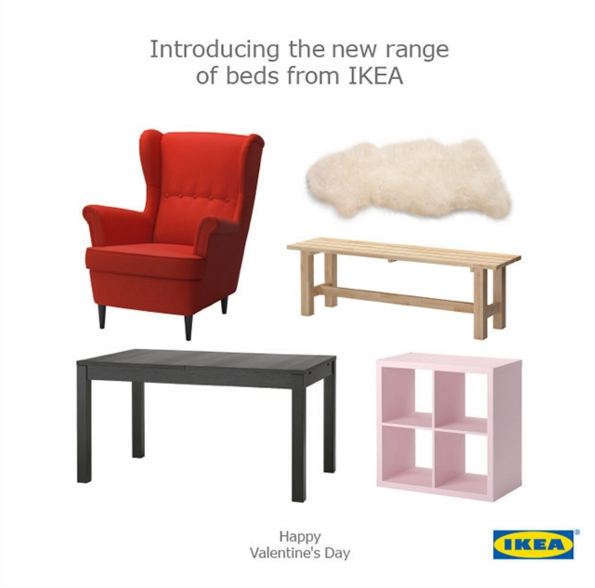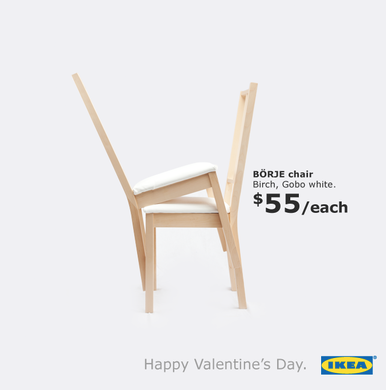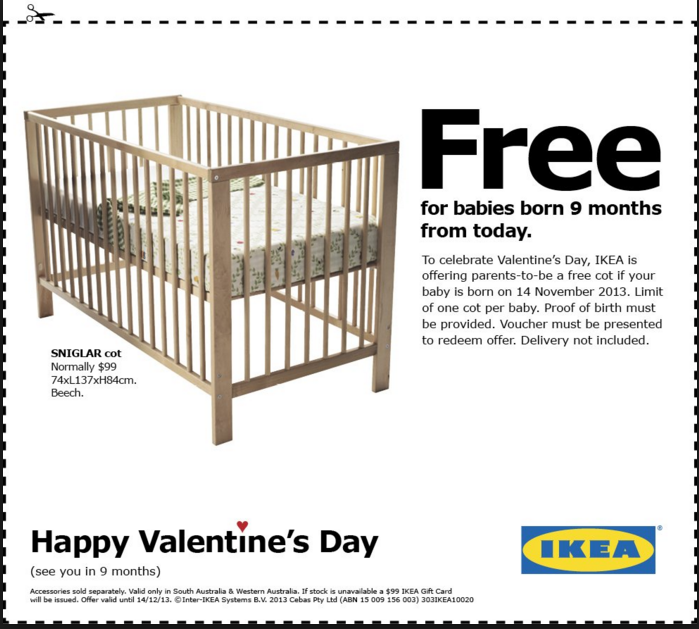 These ads were a great way to introduce new items to the collection and boost sales. 
Related Chatter