Connecting Students & Life
An iconic institution centered in the heart of the city, the University of Toronto was established in 1827 and is steeped in tradition. With a reputation as one of the strongest research and teaching faculties in North America, the institution has over 80,000 undergraduate and graduate students.
Situation
The Student Life team at the University of Toronto was looking for new and emerging technology ideas. With the millennial generation came a paradigm shift in mass the consumption of digital and social media. There was a need to renew and revise a strategy for the websites for current students, future students and alumni.
Solution
The team at Mad Hatter was called upon to share, guide and advise on emerging technology trends. The University of Toronto wanted to explore ideas to amalgamate 33 websites into one coherent and engaging digital space making it easier for students to find support and discover opportunities to fully and actively participate in university life.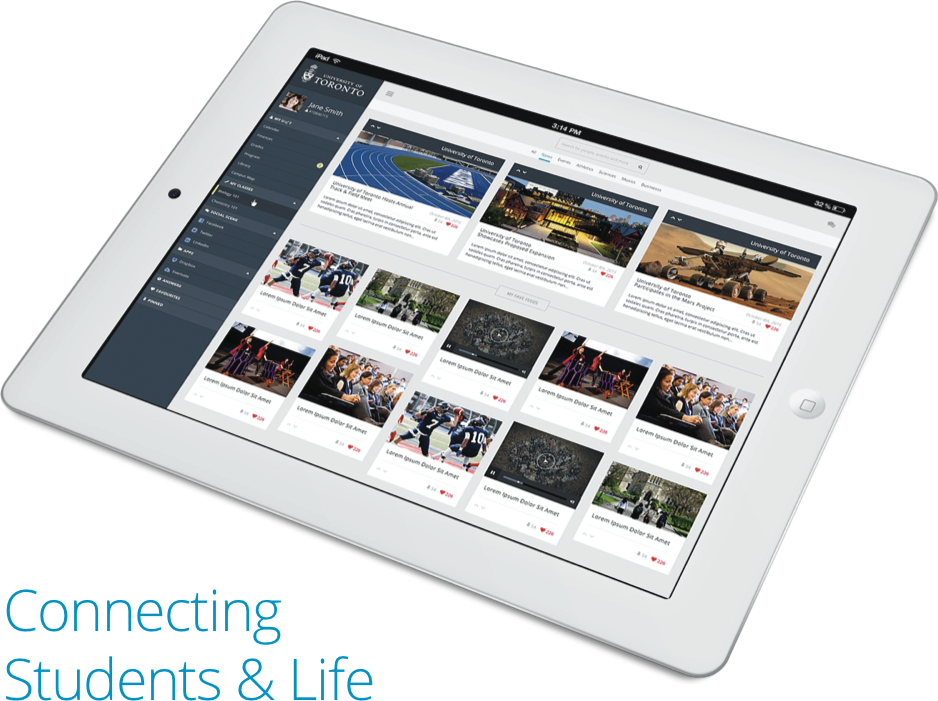 A mobile friendly cross platform web application would allow students to follow the information they need in social style feeds, rather than directing them to disparate and disconnected websites.
Services
University wide Platform recommendations and technology roadmapping suggestions were made for all audiences across all campuses. User interface design concepts were provided with further strategic consultations and guidance.
Success
Based on the success of the conceptual work, which was transitioned to the IT team, Student Life connected to further explore how this concept could be translated to their 16 support units at the university. Student Life is designed to help students flourish both academically and in life. They offer academic support, career workshops, health clinics, housing help, student clubs, international exchange opportunities.
Features & Services
marketing strategy
marketing technology consulting
platform recommendations
strategic planning
technology roadmapping
Technology Strategy
user interface design concepts