10 time national boxing champion launches new website as she heads to Rio
Array
Mandy Bujold launched her much anticipated responsive website www.mandymadness.com to raise awareness about her journey to Rio and give people the opportunity to support female boxing without ever getting into a ring.
Included in the new design is the ability post personal messages on the website and automatically share these #Msgs4Mandy via Twitter. Mandy has already received a significant amount of well wishes from coast to coast on the website since it went live on August 2.
"Messages of encouragement or support are a great way for me to find additional motivation or a fresh perspective, especially when I competing," explains Mandy Bujold. "It can be challenging being in another country and away from your support system. There is now a central place to see all the kind words people have for me, and I look forward to reading the messages as they come in."
A predominately female team at Mad Hatter Technology Inc. designed and powered the website. "We wanted to create a movement of support for her from across the nation," explains Melanie Witzell, Agency Director at Mad Hatter Technology. "Mandy packs quite the punch into her 5 foot 3' frame, and with her might, the sport of boxing, the flurry of the fight, and the following of a fan club, #MandyMadness was just perfect."
Mandy Bujold first met Melanie Witzell at the State of the City 2016 address event earlier this year. After connecting over conversation, Melanie knew her agency could offer tech-savvy solutions to help Mandy amplify her message. "Rallying our team together to support Mandy was an easy decision for me," says Melanie Witzell. "She is a female athlete in an unconventional sport for women, blazing an amazing trail for young girls around the world - in sport, leadership and life - and I wanted to be a part of making this change."
The creative and social media team brainstormed together with Mandy and launched her website and #MandyMadness social media presence. "It is very cool Mad Hatter understands sports, technology and social media, and is integrating these to support me," says Mandy Bujold.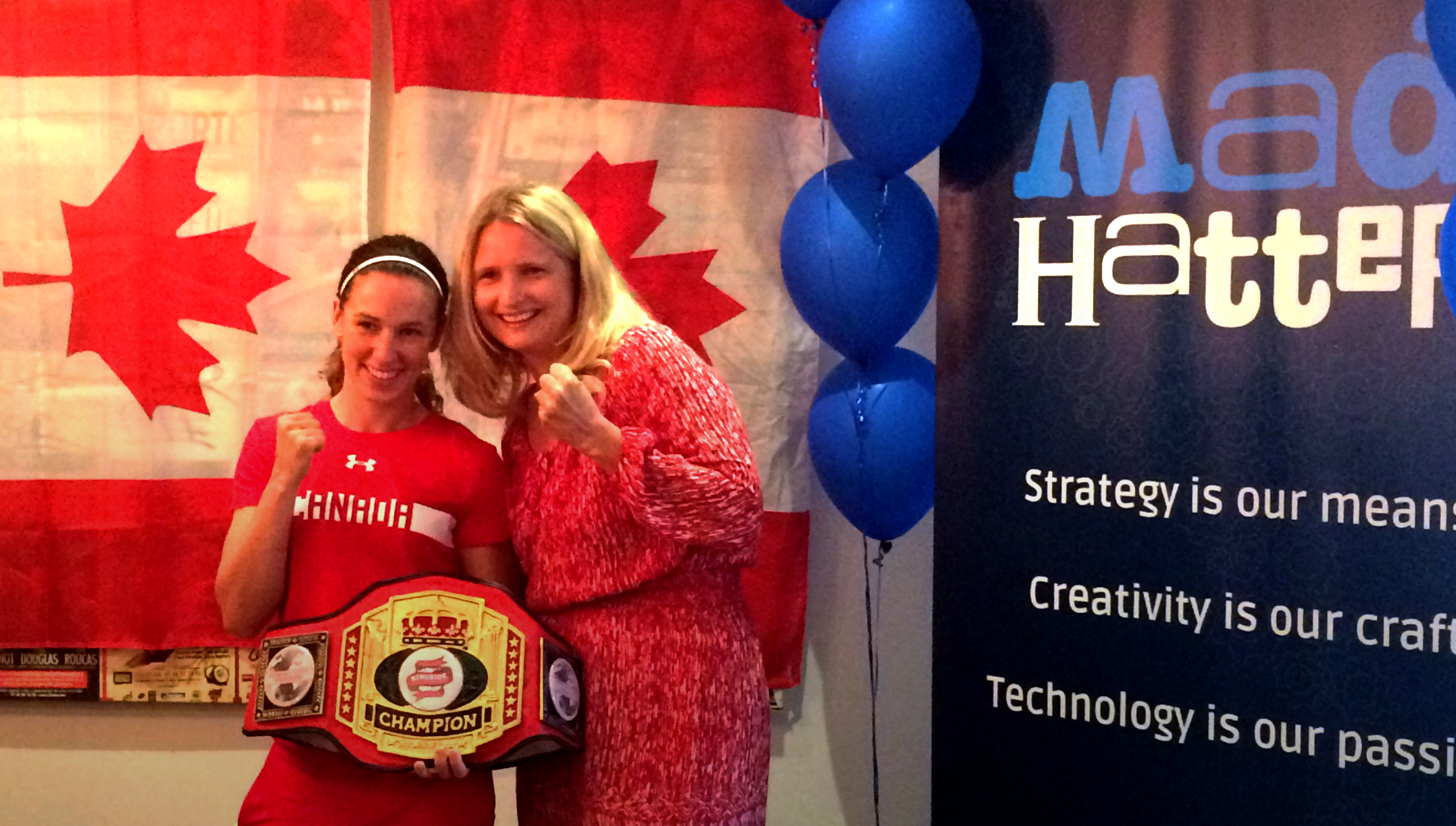 In addition to the real time messages online, the website is linked to the live feed of Mandy's matches. "As an athlete, I find it exciting to know my friends and family back home will be able to watch me compete live and have a way to get in on the #MandyMadness," says Mandy Bujold.
Mandy will be adding her own social media into the mix as well, including personalized behind-the-scenes videos released daily during her stay in Rio. The videos will offer candid insights into what it is like to compete as an elite athlete on the world stage.
Mandy's first preliminary match takes place on Friday, August 12 at 10 a.m. EST. Her full competition schedule and live broadcasts feeds are available on www.mandymadness.com
The public can visit www.mandymadnesss.com to post #Msgs4Mandy. Show your support for Mandy Bujold on social media by tagging #MandyMadness.
Mandy Bujold:
Mandy Bujold was born in Cobourg, Ontario. Moving to the Maritimes, she spent her childhood in Moncton, New Brunswick. As a teenager, her family moved to Kitchener, Ontario, attending Forest Heights and calling Waterloo Region her home. It was in Kitchener that Mandy began her boxing career at the young age of 16. She is 10 time Canadian National Champion and is the first female boxer in history to win two gold medals at the Pan American Games. What makes these two gold medals even more impressive is that they were won back to back, first in 2011 and then defending her title in 2015. She is excited to represent Canada in the 2016 Summer Games in Rio, Brazil.
Mad Hatter Technology Inc.
Mad Hatter Technology is a marketing technology agency that combines strategy, creativity and engineering to architect delightful digital media experiences delivered to internet connected devices all over the world. It helps grow businesses, build buzz, generate revenues, and cut costs for companies by designing and developing their digital media, and creating efficiencies online with their customers, suppliers and partners.
Sources:
Mandy Bujold, 10 time Canadian National Boxing Champion
Melanie Witzell, Agency Director, Mad Hatter Technology
Media:
For background information, images, or to schedule an interview please contact Mad Hatter Technology at 226-444-0433